In the early 90's, Eric puts an end to his History and Literature studies at the University of Sorbonne to devote himself to music with the band Dodge Veg-o-matic, a trio from Paris France formed with his brother Thierry Los and the bass player Muriel Illouz. He is the drummer. They realize an album which draws attention and tour all over France, spreading an "urban folk-rock" from the stage of the New Morning in Paris as an opening act for Jonathan Richman, to the Eurockéennes Festival of Belfort 95, featured among artists like Supergrass and Jeff Buckley.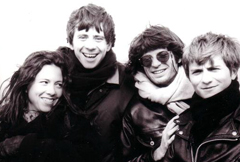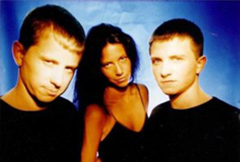 At the same time, he actively participates in role-playing games, including "live" sessions. As the game master, he composes the musical atmospheres which accompany these long hours spent in parallel worlds. Then he decides to take a tight bend and embark on music for video games, a new musical ground that allows him to satisfy his voracious imagination !
2004, back to Rock'n'Roll. He reintegrates VEGOMATIC as the bass player and co-composer, with his brother Thierry, the drummer Gerard and the enigmatic and beautiful Macha. They go Electro Surf ! They make albums, video clips, and appear in concert in France and abroad.
Over the following years, they keep on creating music and films. They also produce lots of talented friends and artists with Trois Jeunes Tambours, their independent label.
Meanwhile, Eric continues with music for games and other inspiring worlds, among which folktales, playing lute guitar and percussion as a troubadour alongside Selenys, his beloved storyteller. Together they create Le Manoir aux Histoires, a company dedicated to live shows, music, songs and illustrated books with the aim of reviving the old stories and legends the elders used to tell by the fireplace.
They are currently working on an interactive digital project highlighting these themes…